---
Basement Egress Systems in Holbrook, NY
---
Wellcraft Egress Systems
GTS BUILDERS SUPPLY CARRY ALL WELLCRAFT WELLS IN-STOCK, BUT THESE ARE OUR TOP TWO MOST POPULAR PRODUCTS:
5600 Modular Well – Offers Modular Locking Sections with an attractive maintenance free design. A typical installation uses four sections and is easy to install. The 5600 is designed for windows up to 4-foot-wide. Each section weighs only 24 pounds and is easy to transport. The 5600 system offers two different types of covers, one being the flat cover and the other is a dome cover.
2062 Single Unit Well – Designed for use with 3-foot-wide casement windows. This model is the ideal choice for project with smaller windows. One-piece construction makes this well both durable and simple to install.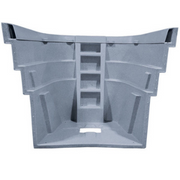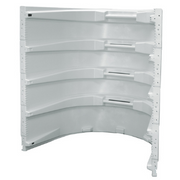 ---
ROCKWELL
(We do not stock or order their Denali line)
Rockwell uses true texture to mimic stone, so the light source in your basement looks like a landscape instead of an industrial eyesore. Every window well is made of a one-piece rigid composite construction. Making them resistant to the elements Rockwell's Elite and Premier Series are egress compliant. With built -in steps, you will always know there's a safe and easy way to escape your basement.
---
Bowman Kemp Basement Egress Systems
A 60" White 18 Gauge Galvanized steel, Single pc Egress well comes with Escape Ladder which is designed to assist people in emergency escape and is easily attached to the back of the Easy-well and is powder coated in a white finish. Safety grate made of rolled angle iron steel and steel safety bars. Its purpose is to keep people and pets out of the well and will withstand normal foot traffic. Additionally, it comes with a polycarbonate plastic, cover which is designed to go on top of the grate to keep debris and excess water out of the Easy-Well.
---
Egress Windows
All Windows are Vinyl Frames and are sold with Screens.
Available Sizes: 27"x45" Inswing , 28"x46" Single Hung & Inswing, 36"x48" Inswing, and 48"x48" Slider.
---
GALVANIZED AREA WELLS (special order)
Commercial Grade/18 Gauge Steel. Ideal for the intermediate basement window size. 18-gauge G-90 Galvanized steel for normal soil loading. Rolled top and bottom edge standard on 48", 60" and higher wells. All corners are rounded for safety. Both flanges are predrilled for fastening to foundations.
Available Sizes: 12'Hx36"W, 18"Hx36"W, 24"Hx 36"W, and 30"Hx36"W.
---
Foundation Vent Area Well
Available Sizes: 12"Hx20W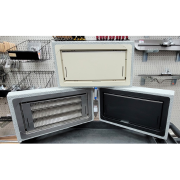 ---
Bilco Basement Doors
Basement doors are ideal for access to basement storage areas and for moving large items into finished basement areas. The wide opening allows storage items such as deck and patio furniture, and large items such as pool tables and furniture, to be easily moved in and out of a basement. Doors meet IRC 2018 building code requirements for emergency egress in finished basement living areas and feature weather resistant construction. Powder Coating available in different colors via special order.
Contact Us
---
GTS Builders Supply
4701 Veterans Memorial Hwy
Holbrook, NY 11741
Mon - Fri: 6am - 5pm
Saturday: 6am - 1pm
Sunday: Closed